"I'm no technical wizard, but even so, I didn't have any problems getting online or finding assignments; everything was structured around weekly modules, with the content laid out in a well organized fashion, so that I always knew exactly what to expect each week. Plus the program was progressive, with each course building on the knowledge we learned in the previous course."  PAT DANIELS, Special Education Transition to Adulthood Online Graduate Certificate Program, Spring 2018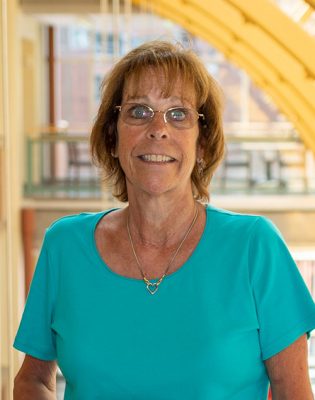 A Career in Transition
 Pat Daniels had a hard time getting a teaching position right out of college. But she stayed focused and over the next two decades, she eventually worked her way into her current position as a Special Education teacher. As she discovered, her real passion is helping students transition successfully into the next phase of life after high school. With the Special Education Transition to Adulthood Online Graduate Certificate, she now feels well equipped to arm her students with the skills they need to transition into adulthood.
Back in 1978, it was a tough road ahead for new undergraduates wishing to become teachers – at least that's what Pat Daniels discovered. So Pat turned to the non-profit sector instead, becoming a Workshop Supervisor for the Society to Advance the Retarded in Norwalk, CT. She got married and had a family. Then in September 1992, she was hired as a Para-Educator for the Meadowside Elementary School in Milford, CT, a job she had for the following seven years. "I remember in the summer of 2000, my principal said to me, 'Pat, you should become a teacher,' which was what I wanted to do all along. I was 'grandfathered' in, and finally got my first teaching position in October of that year, working at the Meadowside Elementary School in Milford, CT," she notes.
Then in August 2005, the local high school had an opening for a full-time Special Education teacher at the Jonathan Law High School in Milford, CT. Pat was hired; her primary responsibility that first year was to work with five boys, supporting them so that they could succeed in the general education program. While in this position, she worked closely with the school social worker, creating and co-teaching a transition class. "That's when my focused changed, and I became passionate about wanting to prepare young people with special needs for the challenges and opportunities ahead after they have left high school," explains Pat, who in 2010, earned a Master's of Art from the Graduate Institute in Bethany, CT.
In 2017, Pat attended a State of Connecticut Education Resource Center workshop, where she heard quite a few people talking about the Special Education Transition to Adulthood Online Graduate Certificate program given by the University of Connecticut (UConn). While she felt like she was doing everything she could to prepare students for life after high school, she realized that she needed new skills and knowledge, especially in the areas of current legal issues and best practices. "I had been to various workshops over the years, but the information was piece meal and repetitive. So I contacted UConn, and spoke with Donna Campbell, who is the enrollment services expert for the e-campus offering. She was incredibly patient. She told me all about the program and explained everything I needed to do to sign up for classes."
So easy to get up to speed
For Pat, the HuskyCT/Blackboard platform was a big plus. As she discovered, she could create a more flexible timeline to complete course assignments. She also especially appreciated how the program was structured to promote interaction with other students. "We'd have great conversations, posting comments back and forth with one another in response to a question posed by the instructor," notes Pat, who adds: "I'm no technical wizard, but even so, I didn't have any problems getting online or finding assignments; everything was structured around weekly modules, with the content laid out in a well-organized fashion, so that I always knew exactly what to expect each week. Plus the program was progressive, with each course building on the knowledge we learned in the previous course."
She also found that all three professors she had were extremely responsive. "I would email them and get a response back, typically that same day, but always within 24 hours. And each was very knowledgeable in their subject matter."
Drawing upon her new skills
Pat has put her new knowledge to good use already. As she was going through the courses, she downloaded a great deal of the content and organized it into binders that she uses on a daily basis. "Now I can easily get my hands on the right assessments for students with specific needs," she says, and adds: "I use these on a regular basis."
Pat is also taking advantage of the information she gleaned to help her write new lesson plans. "This coming year, I am adding lesson plans for budgeting, interviewing skills, and other skills of daily living like using an ATM machine, which most of us take for granted. During the program, we were shown how to write lesson plans in a specific format so that if any other teacher picked up one of our lesson plans, they could easily step in and teach that lesson. And we also learned how to imbed transition into students' Individual Education Plans."
A passion for helping students succeed in adulthood
Going forward, Pat is hoping to become a transition coordinator for her school, with transition becoming her sole focus. Toward this end, she is planning to teach two transition courses, and she is working in three learning centers with students who need academic help in addition to transition support. "We start with the freshmen, assessing their transition needs, then creating individualized plans that support their requirements. I believe our students are given the best chance to leave high school with the skills to be successful. In fact, we have had many success stories, like one young man with autism who is going to the University of New Haven. Another student is now a journalist at a local newspaper and is a guest speaker in my classes, addressing the challenges he faced having autism, as well as getting adjusted to life after high school. I give a lot of credit to the Special Education Transition to Adulthood Online Graduate Certificate program for helping me sharpen my skills so that I can help students be as successful as possible."